There was a fatal drowning death on our coast every second day this summer.

This shocking statistic is exactly why we need volunteer surf lifesavers on our beaches. Can you give a gift that will help volunteers like Chris keep you and your loved ones safe?
A wave of support for your lifesavers.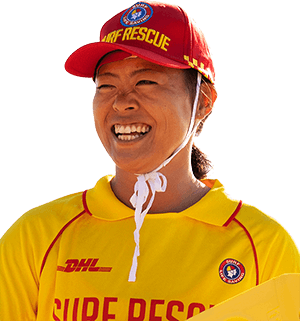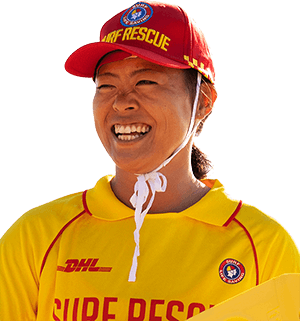 Keep your lifesavers On the beach.
Will you give a gift that could save someone's life?
Thanks to your generous donations, trained surf lifesavers like Chris have the skills to save lives on our beaches, whether they are on duty or not.
"Take my little sister, take my little sister…"
Imagine hearing these heart-wrenching words, as you fight to rescue three women and a 13-year-old girl who are only moments away from drowning. Imagine having to choose to save one life over another.
This was the reality that off-duty surf lifesaver, Chris Perrott, was recently faced with when he by chance checked in with a lifesaving service near a remote stretch of surf on the Mornington Peninsula.
Chris had been driving from Gunnamatta to Point Leo when the alert was raised that four people had been washed off rocks at Bushrangers Bay – he was in the right place at the right time. "It was just pure fluke that I had been going from Gunnamatta to Point Leo," Chris said.
Despite never being to the area before, Chris immediately navigated his way to the access road leading to the water and, accompanied by only his damaged surfboard, jumped in without hesitation.
After fighting the swell for about half an hour to reach the women and teenager, he gave his surfboard to the youngest girl and her 19-year-old sister. The girls were exhausted and taking on water – if Chris had arrived even one minute later, the outcome would have been very different.
The Westpac Lifesaver Rescue Helicopter winched their mum to safety, as Chris continued to fight the conditions to reach the fourth woman who was another 60 metres away. He delivered several rescue breaths in an attempt to resuscitate the woman. She was also winched from the water but sadly could not be saved.
"It would have been amazing if we had been able to get to all of them in time. But the fact there were three people pulled out that are hopefully going to be fine is a much better story than all four passing away."
Our donors' support of Surf Life Saving enabled Chris to have the skills and knowledge to make the most of his resources in an emergency to ultimately save three lives.
Our volunteer surf lifesavers never turn their back to the ocean so they can always have your back. You can enjoy a fun day at the beach and return home safely thanks to surf lifesavers like Chris.
Could you give regularly?
As well as training new volunteer surf lifesaver, your monthly donation helps repair and replace the equipment that constant exposure to the sun and sea can damage. As a Guardian of the Surf your monthly donation ensures that we are rescue-ready at a moment's notice. You would be the silent hero behind every life saved.
Join our Guardians of the Surf family today